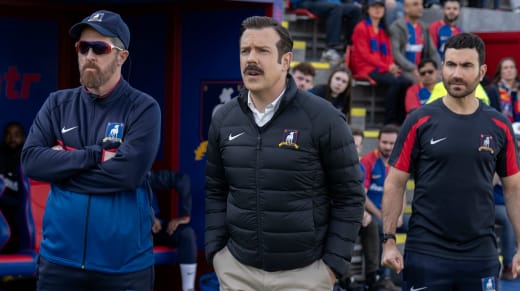 Ending a series is never easy because viewers have built up expectations while watching the show.
Ted Lasso Season 3 Episode 12 marked the end of Ted Lasso in its current form, and it featured closure for all of the characters we've grown to love throughout the show's three-season run.
There were tears, laughs, and moments of satisfaction, but there were also moments that didn't work as well as the creatives intended.
Throughout Ted Lasso Season 3, Ted's journey has had a clear end that would culminate in him leaving London and returning home to the U.S. to be a more permanent fixture in his son Henry's life.
A part of the fandom has been clamoring for a Ted and Rebecca pairing to close the series out; I've never seen them as more than close friends.
They're there for each other at their best and worst times, which is what you'd expect from the person you turn to at your best and worst.
There was chemistry between them, sure, so there was always the possibility the series would entertain that possibility, but I didn't expect it to dangle it in front of our faces like a carrot only to pull the rug out from under us.
Ted: Morning, Rebecca.
Rebecca: Morning, Ted.
Ted: Hi. Yeah. Um... Um... So, do you, um... You know, do you want to talk about it?
Ted: MmmI'm not really ready to talk about it yet.
Rebecca: Mm-hmm. Okay.

There was likely a collective sigh of relief from many who shipped the pairing, only for it to feel like a middle finger to the audience when Coach Beard and Jane appeared, changing the scene's context entirely.
Rebecca's journey this season has been widely governed by her visit to Tish the Psychic on Ted Lasso Season 3 Episode 3.
We were given plenty of indications about what to look out for during Rebecca's journey, but most of the clues were worthless in the end, with Rebecca conceding that her mother's psychic was, indeed, talking rubbish.
Jane: Oh, Rebecca, I hope you don't mind. I went through your wardrobe and borrowed this dress.
Rebecca: Oh, it's a blazer. But, yes, yes. Help yourself.

On Ted Lasso Season 1 Episode 1, Rebecca struggled to look at AFC Richmond without thinking of her disgraced husband, but somewhere along the way, she's carved out a family at the club.
It's been in her best interests to keep the club going -- and thriving -- but she's had Ted with her every step of the way, so his leaving the UK to return home scared her about her next chapter.
She was desperate here because she didn't think she could go on without her friend and confidante.
Hannah Waddingham portrayed every layer of emotion on the finale to perfection, and her attempts to get Ted to stay in the UK were admirable.
Ted: Boss don't want to talk about it yet.
Rebecca: It's not that I refuse to talk about you going home, Ted. It's that I refuse to accept that you are not coming back.
Ted: God. Boss. I'm right there with you.

She understood the value Ted brought to the team enough to believe that selling 49% to make him one of the best-paid managers in football would still not be enough compensation.
Rebecca wanted to move mountains to keep Ted as the person spearheading the team's success, and I won't be forgetting their emotional airport goodbye in a hurry.
Rebecca seeing the little girl again and bumping into the man who saved her from the canal on Ted Lasso Season 3 Episode 8 was a bit too contrived for my liking.
The series has subverted expectations at every turn. Still, I wish the show did a better job of reimplementing this man and his daughter into Rebecca's life because, honestly, what are the chances of that happening?
Given the final scene showed them very much together, they are likely getting their happily ever after.
Rebecca: I've decided to sell the club. If you go, I go.
Ted: Hmm.
Rebecca: There is another option. We both stay. I respect that you need to go home to your son, Ted. But I just want you to consider the possibility that this is your home. Henry can come and live here and go to one of the best schools in the world and enjoy the life-changing experience of being in another country. Michelle can come here and teach, get fully qualified and go home as a department head. Higgins has said, if I sell 49% of the team, I can afford to make you one of the highest-paid coaches in the league. I know people will say I'm crazy, but... I still think I'd be underpaying you for what you mean to this club. Would you please stay? This is the part when you say you need to sleep on it and I say, "Oh, yes, of course." And then we do exactly the same thing tomorrow.

Rebecca's journey has been fascinating to watch because, for many reasons, she's been struggling to find her place in the world.
Now that she's getting the recognition she deserves and making AFC Richmond more about the fans than the money, it will be interesting to see if there are any future projects in this universe to hear what becomes of them.
I can't be the only one who thought the team would dominate and win the championship, but coming in second place was grounded in reality because this show has never been about a Hollywood ending.
It's been about all the characters reaching moments of resolve in their lives; the finale was written with that in mind.
Ted may have left the team -- and country -- behind, but at least he gets to wake up every day and witness his son growing up.
Being a parent from a distance has got to be tough, not only for Ted and Henry but also for Michelle.
The series didn't answer whether Michelle and Ted were back together, but I'd like to think the therapist is well and truly out of the picture.
Ted Lasso Season 3 Episode 8 set the table for Michelle to get engaged to her boyfriend, but the episode's final moments hinted at something going wrong.
It could be that she wasn't interested in rushing into another marriage, or she could still hold a torch for Ted, especially if he's made this sweeping sacrifice in leaving his team behind.
The ambiguous nature of their ending worked well because we didn't need a definite answer about what became of them.
You could tell, though, that Ted knew he was losing everyone he cultivated relationships with over the last couple of years.
He profoundly impacted everyone he met, but something tells me his story with the team has been paused for the time being.
Speaking of relationships, the Roy-Keeley-Jamie love triangle coming back to the forefront was a major eye-roll, mainly because I figured Jamie understood his time with Keeley was over.
The boys progressed from bickering on Ted Lasso Season 3 Episode 1 to understanding each other on very different levels on Ted Lasso Season 3 Episode 11.
The only good thing to come from the love triangle's return is that Keeley shuts the door on them, realizing she's too good to be told to pick between the two men.
Whether that means she'll end up with either of them down the line, I don't know, but I was far more interested in watching her kill it again.
Roy: Real talk, man. Thank you. And look, I know you've got a lot of feelings for Keeley. I just hope none of that shit ever gets in the way of our friendship.
Jamie: Yeah. No, yeah, me too, yeah.
Roy: Good. That's good. 'Cause me and Keeley started talking again.
Jamie: Oh, yeah?
Roy: Yeah. Just easing into it. But she is a woman, so you never know, right? Jamie: Hmm. It's nothing official between the two of you?
Roy: Well... No, but it's happening. I wanted you to know 'cause I don't want you to get hurt, so... I think it's best if you just step aside.
Jamie: No.
Roy: What the fսck do you mean, "no"?
Jamie: I mean, if the two of you ain't official, then I ain't steppin' aside.
Roy: Why not?
Jamie: 'Cause I know in my heart that me and Keeley are meant to be together.
Roy: Fսck off. You're a child.
Jamie: You fսck off. You're a hairy old prune. Don't forget, I was with her first.
Roy: Yeah, well, I was with her last.
Jamie: It's been a year, mate.
Roy: It's been a month, mate.
Jamie: That video of her that got leaked, she made that for me.

Joining forces with Barbara for a PR company was one of her best decisions because the pair bring unique skill sets to the forefront.
She also gets to work with Rebecca, who is her best friend. If there is a spinoff in the future, I bet it's about the women's AFC Richmond team Keeley pitched in the closing scenes.
Jamie's ending was excellent because he found a way to let go of all the anger he had been holding on to and ended the series in a better place than when we met him on Ted Lasso Season 1.
A part of him never wanted to forgive his father, but as we realized on Ted Lasso Season 3 Episode 11, his father had been suffering in silence.
Knowing his father is bettering himself allowed Jamie to find common ground. Jamie continually exceeded expectations on the field on Ted Lasso Season 3, so hopefully, he continues to improve himself.
Roy's promotion was a bit of a surprise initially, but after thinking about it for a bit, it probably couldn't have ended better.
Much like Jamie, Roy has been working on bettering himself, and speaking about his feelings instead of showing acts of aggression has allowed him to find happiness, whether that's with Keeley or not.
Beard: Coach, is this nuts? Us leaving like this?
Ted: I mean, we almost won the whole frigging thing, you know? Saying goodbye to a bunch of nice folks. And I know I've finally accepted that air conditioning is a privilege and not a right. I don't know. What do you think?
Beard: I can't do this. I don't wanna go, Ted. I'm in love with Jane. I wanna stay, and I don't wanna let you down. But with your permission, I'd love to run off this plane and into her arms.
Ted: Well, I mean, what about your luggage?
Beard: Forget my luggage. It's full of rice.
Ted: What? Why?
Beard: I haven't slept for three days, man.
Ted: Okay.
Beard: I'm sorry, you know. I've been dreading this. Talking to you. Abandoning you.
Ted: What?
Beard: No, no, no, hold on, Coach.
Ted: You ain't abandoning me, okay? You're just following your heart. I get it. And, yeah, you should go. But look, man, I don't think they're gonna let you off this plane with that door already shut.
Beard: I have a plan.
Ted: Of course you do. Okay. What do you need me to do?
Beard: Whatever's about to happen, that's a great start. I love you, Ted.
Ted: I love you too, Willis.

Roy has proven to be an excellent coach to players, and AFC Richmond should continue into the next football season on a solid note.
Other odds and ends:
Colin didn't get nearly enough screen time in these final episodes, but his scene embracing his boyfriend on the pitch was a lovely callback to Ted Lasso Season 3 Episode 6.
Shandy's app taking off was not on my bingo card, but I'd have loved one scene of her with Keeley to show how they would react if they ever crossed paths again.
Rupert's takedown was a chef's kiss moment. He knew his world was crumbling, and the only thing he had left was to defeat his ex's team.
Rebecca gifting the team's most prominent supporters a share each of Richmond fitted in with how she viewed football. It was for the fans, and she was awarded the biggest supporters.
Beard's nauseating exit from the plane to remain shacked up with Jane, only to get married at Stonehenge with the couple from Ted Lasso Season 2 Episode 9 in attendance, was another full circle moment.
Did anyone else expect Nate to get the job Roy got? That being said, it was nice that he returned to the role he had before he threw it all away.
The news of Bex and Kakes thriving away from Rupert was the perfect signal the world was healing.
That's all I got, Ted Lasso fanatics. I've loved covering the show this season.
What did you think of the big finish? Do you think the show should return in another capacity?
Hit the comments.
Paul Dailly is the Associate Editor for TV Fanatic. Follow him on Twitter.
Read this on TV Fanatic