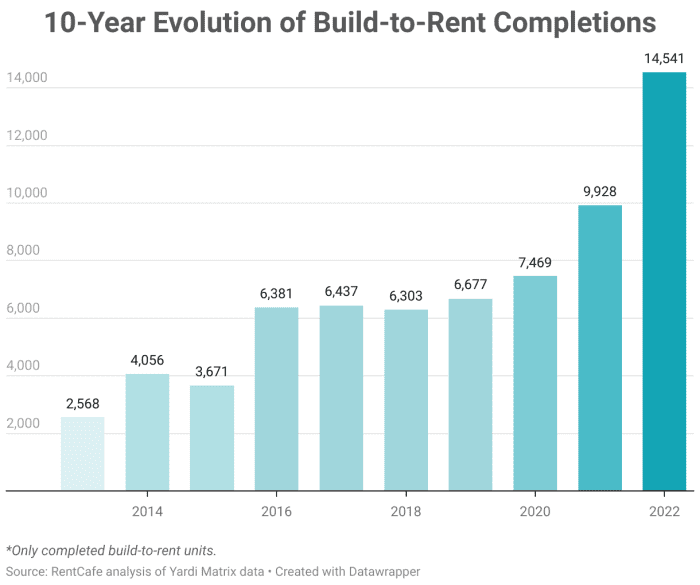 As aspiring homeowners contend with high mortgage rates, rising home prices, and a low number of homes for sale, the construction of single-family homes built deliberately to be rented is forging full steam ahead as investors bet on rentals.
The number of newly built single-family homes being sold to investors to rent, or also known as built-for-rent homes, hit a new record in 2022, according to a new report from apartment search website RentCafe. The data was provided by real-estate market data company Yardi Matrix.
More than 14,500 homes that are built for the purposes of renting were completed this year, up 47% from 2021, the report said. And nearly 45,000 more are under construction.
That may present good news for potential buyers who are forced to defer their dreams of homeownership, as a robust pipeline of rentals may provide an opportunity to wait out a tough housing market. But does it take up valuable space in a housing market that is already suffering from a dearth of homes for sale?
"More than 14,500 homes that are built for the purposes of renting were completed this year, up 47% from 2021."
The single-family built-for-rent market "is a way to add inventory amid concerns over housing affordability and down-payment requirements in the for-sale market, particularly during a period when a growing number of people want more space and a single-family structure," the National Association of Homebuilders (NAHB) said last May.
When rents surged across the nation last year, investors poured money into developers to build single-family homes with the purpose of renting them out. Though rent inflation has since abated, rates and prices are still high and people have ended up renting for longer.
The typical home buyer was paying a monthly mortgage payment of $2,112, as of April, according to the Mortgage Bankers Association in May. Rates are inches away from 7%, adding hundreds of dollars in interest for potential buyers. Whether renting or buying, financial advisers recommend paying no more than 30% of your monthly income on housing.
High interest rates are "pushing would-be purchasers to rent as their households grow in size," Adam Wolfson, chief executive and investment officer at Wolfson Development Company, told MarketWatch. The company owns just under 2,000 rental homes in Florida, and is planning to expand to other Sun Belt states in the near-term.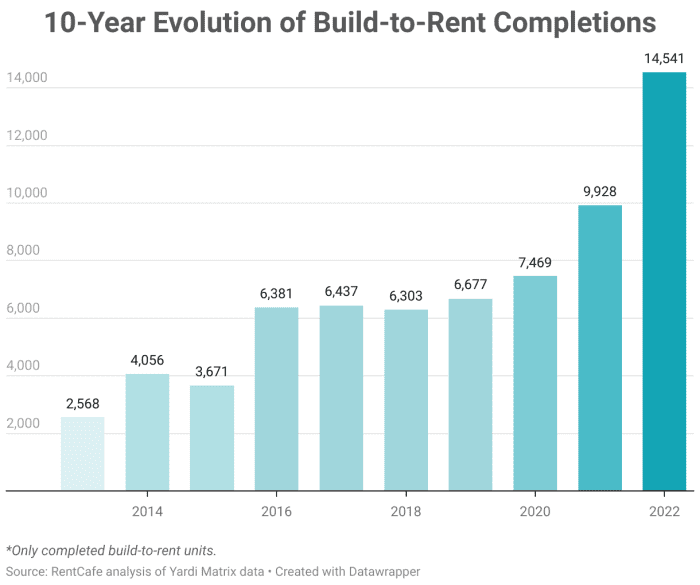 These latest figures indicate that the developers are building single-family homes for rent at a record pace.
That supply is poised to meet strong interest from renters. "Rental demand continues to be strong across the build-for-rent sector," Wolfson noted.
Three of the metros with the most single-family rentals that were completed last year were in the South — including Dallas, Phoenix, and Atlanta. In Dallas, nearly 2,800 new homes were built for rent, the RentCafe report said, which is about 20% of the overall share.
Fundrise, one of the companies that has been active in the built-for-rent space, owns over 4,300 homes, primarily in the Sun Belt region. Fundrise CEO Ben Miller told MarketWatch that the company has almost 2,000 more homes in the pipeline.
Miller expects demand to hold steady in the region for single-family homes, despite the fact that some investors — particularly apartment landlords — are pivoting to other parts of the country, such as the Midwest.
"Demographic demand for single-family housing is stronger than at any other point since the baby boomers reached home-buying age in the early 1980s," Miller explained, but "the rapid rise in interest rates has more than doubled the cost to own, making single-family rental the most attractive option available."
New construction a bright spot for buyers and renters
Overall, new construction has been a bright spot in an otherwise despondent housing market.
Aside from strong growth in rentals, home buyers have also found more options in newly-built homes versus previously-owned homes.
The pivot to new construction comes as home sellers are unwilling to sell and give up their ultra-low mortgage rates. There were 28% fewer listings this April compared to last year, Zillow Z, +1.46% said in a separate report.
"If you have a 3% or 4% mortgage, you have a huge opportunity — you should probably be trying to avoid moving if at all possible, because you would have a massive capital gain on your mortgage," Chester Spatt, a finance professor at Carnegie Mellon's Tepper School of Business, told MarketWatch.
Sales of existing homes have slumped, as a result of the standoff between buyers and sellers. But — helped by investor cash — business has been brisk for home builders. Confidence in the future of their business is also strong, the NAHB noted this May.
Read this on market watch