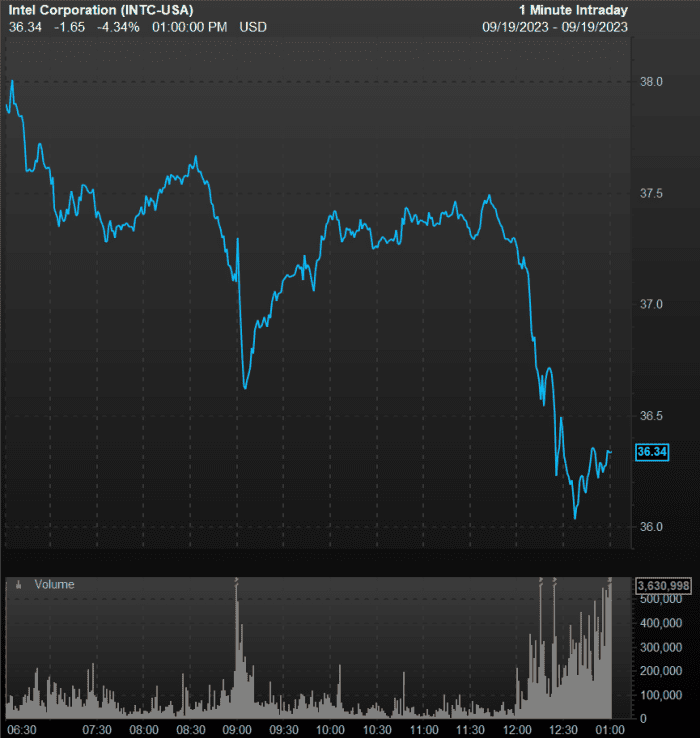 Intel Corp. shares led the Dow lower Tuesday as concerns over data-center inventory overshadowed announcements of new PC chips with artificial-intelligence capabilities in time for the holidays.
Intel shares INTC, -4.34%, which had been down about 1% when Chief Executive Pat Gelsinger started his keynote at Intel's Innovation 2023 developer conference, started to slide as the session progressed, finishing down 4.3% at $36.34, to become the Dow Jones Industrial Average's DJIA worst-performing stock on Tuesday. Intel shares rose 0.5% after hours.
In the keynote, Gelsinger said Intel would launch its Core Ultra processors — or the company's long-awaited "Meteor Lake" chip — which use Intel's first integrated neural processing unit that is designed to deliver "power-efficient AI acceleration and local inference on the PC." Intel will also release its fifth-generation Intel Xeon server processors, with both becoming available Dec. 14.
Gelsinger said the Core Ultra will allow AI inferencing on a device without needing a connection to the internet, and while keeping a user's data local on the PC. "Inferencing" in AI is where a machine-learning model takes data it already has to make predictions, or create a novel response, following a user's request.
In generative-AI models like OpenAI's ChatGPT, any data a user enters into a model automatically becomes part of the model and is stored on cloud servers — as Samsung Electronics Co. 005930, -0.57% found out earlier this year when engineers entered proprietary data into ChatGPT.
As the AI frenzy has grown over the past year, Intel has had to draw attention away from competing chip makers that have largely been considered the No. 1 and No. 2 beneficiaries of the AI wave: Nvidia Corp. NVDA, -1.01% and Advanced Micro Devices Inc. AMD, -0.74%, respectively.
Nvidia announced AI chips back in March, with CEO Jensen Huang forecasting that AI revenue would grow from "tiny, tiny, tiny" to "quite large" in a year, and in its most recent earnings report blew Wall Street's collective mind by reporting data-center sales for the quarter that exceeded analyst forecasts by more than $2 billion, and forecast total third-quarter revenue that was more than $3 billion above the consensus estimate.
Meanwhile, AMD rolled out its AI product announcement in June, and focused on open-source AI in contrast to Nvidia's moated software approach.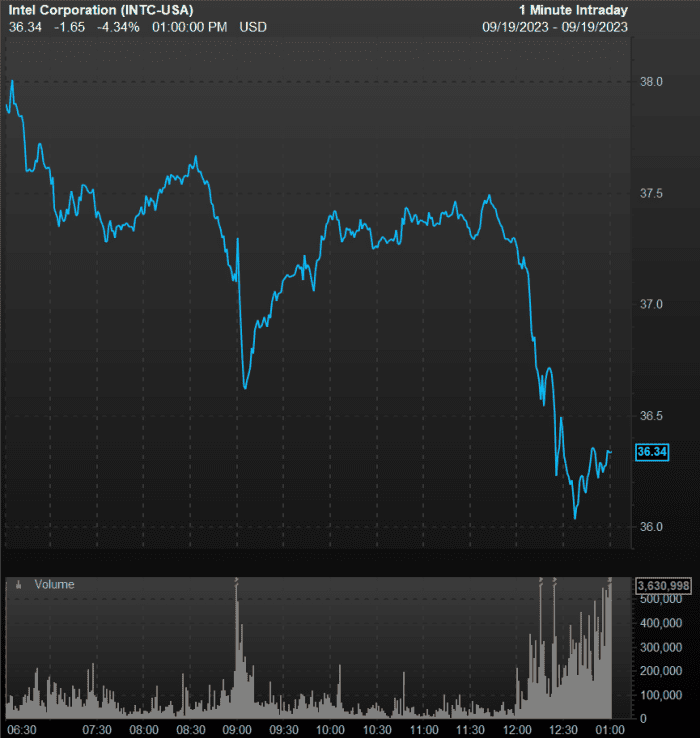 Later in the day, Intel Chief Financial Officer David Zinsner told analysts that while Intel has seen improvements in data-center demand over the past two quarters, the company still has a few quarters to go "before we're in a good place for inventory."
"But I do think we're set up to see a decent year, next year," Zinsner said, adding that inventory would "work its way through over the back half of the year."
"We'll have this kind of volatility, or what have you, or air pocket in the business, that we're seeing right now," Zinsner said. "I think that goes away by the time we exit 2023, and 2024 should be a really good year for the data-center business."
Earlier this month, Zinsner said one of the big surprises of the year has been better-than-expected data-center sales at Intel, following a quarter in which the chip maker reported its largest quarterly loss on record.
Back in June, one Wall Street analyst was making a case for Intel's "material AI opportunity." Then again, Intel was also the worst stock on the Dow Average two days running in June as the company rolled out news on its foundry services.
Read: Intel gets surprise data-center tailwind as it looks toward 'meaningful' AI growth next year
Gelsinger said AI was allowing the $574 billion chip industry to feed an estimated $8 trillion "siliconomy," what he described as a "growing economy enabled by the magic of silicon and software."
In a demo of Intel's local AI chip during Gelsinger's keynote, Rewind.ai co-founder Dan Siroker joined the Intel CEO onstage, turned the WiFi off on a demo laptop, and showed that Rewind.ai was able to answer questions in plain English, while the laptop was not connected to the internet, about data that was "seen" during the laptop's session.
Rewind.ai bills itself as a personal AI service that stores private data to a user's local device without using cloud storage, and without capturing private browsing data.
On Tuesday, Rewind.ai announced it now runs on Intel-based Macs and is "coming soon" to Microsoft Corp.'s MSFT, -0.12% Windows operating system. Before that, it only supported Apple Inc.'s AAPL, +0.62% M1 and M2 chips and iPhones. According to Rewind.ai's website, the service uses about 20% to 40% of a single core, or about 1% to 5% of an M1 or M2's capacity.
Rewind.ai reportedly got a $12 million funding round from venture-capital firm NEA earlier in the year, valuing the startup at $350 million, up from a $75 million valuation fetched through Andreesen Horowitz's seed-funding round a year ago.
Intel also announced that it is building a large AI supercomputer using its Gaudi 2 accelerators with generative-AI company Stability AI as the anchor customer.
Read: Arm IPO: 5 things to know about the chip designer central to the AI transition
Gelsinger further noted that chip designer Arm Holdings ARM, -4.88% was now supporting Intel's OpenVino open-source inferencing platform. Arm started trading on the Nasdaq last week. Gelsinger was formerly lead engineer at Intel, helping pioneer Intel's complex instruction set computing (CISC) architecture for its x86 CPUs. Arm, meanwhile, pioneered reduced instruction set computing (RISC) chips.
CISC chips are designed with high performance and throughput in mind, so they require lots of power and generate a lot of heat. RISC chips, on the other hand, were designed to enhance mobile performance, with an emphasis on energy efficiency to prolong battery life.
Against Intel's 4.3% drop, the Dow finished Tuesday down 0.3%, the PHLX Semiconductor Index SOX declined 1%, and both the S&P 500 SPX, -0.22% and the tech-heavy Nasdaq Composite COMP finished down 0.2%. Nvidia shares declined 1%, and AMD shares shed 0.7% on Tuesday
As of Tuesday's close, Intel shares are up 37.5% year to date, compared with a 36.6% surge on the SOX chip index, a 4.1% gain on the Dow, a 15.7% advance on the S&P 500, and a 30.7% rally on the Nasdaq. In contrast, Nvidia shares have soared nearly 200% over that time, and AMD shares have gained 56.9%.
Read this on market watch